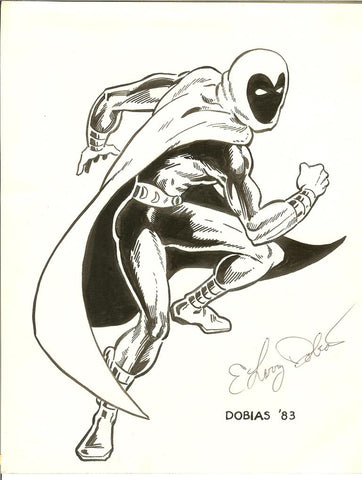 Larry Dobias- Moon Knight Convention Sketch
Black & White on Strathmore paper, measures 8.5x11".
Bio (per ComicBookDB.com)-

This writer, commercial artist and longtime comic fan made a foray into the world of black & white independent comics in the mid-1980's with a parady title, "The Midnight Skulker," which poked fun at superhero comics. The title lasted for 7 bi-monthly issues. The Skulker had appeared in a short-lived strip in the Comics Buyers Guide before taking the leap to a monthly title.
Other credits include various cartoons and superhero illustrations in the Comics Buyers Guide, The Comic Journal and The Comic Reader. After his short career in independent publishing Dobias returned to the world of advertising and commercial art. He lives in Haslett, Michigan and is currently working on two science fiction novels.
Dobias also published four issues of "Gantar: the last nabu," a fantasy title created, written and drawn by John Peck.
---
We Also Recommend